With a

rating, the first edition of How NOT to Lose at Spades was a bestseller at Amazon.com.

This new edition is even better, with lots of new material and expanded coverage of key topics.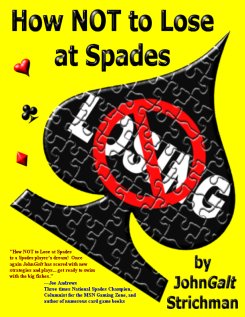 Written by one of the most highly regarded Spades players on the Internet, This "Bible of Spades," as many readers refer to it, has received unprecedented acclaim among the Spading community since its publication in 2001.

The book identifies 80 common mistakes that players make which cause them to lose games that they could have won. Through the use of over 100 bidding and playing examples, the author shows readers how to avoid these mistakes, and in a very structured approach teaches readers how to think and play like a winning Spades player.

The majority of readers see an immediate improvement in their game, and many readers order additional books for their regular playing partner(s) or friends.

"How NOT to" is highly unique compared to other books on card theory. It is written in a simple and fun style, with the emphasis on humor and enjoyment of the game, rather than on complex diagrams, statistical theory, and technicalese.

Through this unique approach, the author teaches readers how to "think" when they play, as much as how to play, and it is this approach which is the key behind the book's popularity and success, and which has generated a loyalty among its followers which is rare indeed.

Once you have read the book, you will probably think of the game very differently than you ever have before, and you just may wind up being rewarded in Spades.

The book is 220 pages, 8.5 by 11 inches, and printed in 14 point normal font on heavy paper.

What's new in the 2nd edition?
We want to be sure that you understand what a "second edition" classification means. It is NOT an entirely new book. Any book which undergoes any significant changes is required to be published as a new edition.

That being said, this edition is meaningfully different from the prior one.

First, the book has approximately 10% completely new material (about 22 pages), and much of the existing material has been reworked or added to in ways that make the entire book even more comprehensive, organized, and instructive.

Specifically, there is a significantly expanded discussion of how to approach 11 bid hands. Also, there is a much more thorough discussion of 3rd seat last hand bidding, including a table showing to what total bid you should take your team depending on all possible score situations.

Further, there are 8 additional Mistakes described in the new edition. These relate to:


How to lead Spades late in the hand.
Setting on 10 bids.
How to best force West to play a high card.
When to bid Nil with the Ace of Spades.
When to voluntarily trump a lead by East when you are Nil.
How to approach 2 card holdings when you are Nil.
A very instructive one concerning 3rd seat last hand bidding.
How to lead when you need every last trick to make your bid.
Also, many of the examples used in the first edition have been changed to make the teaching clearer and better.

The second big change is physical in nature. The book has been completely reformatted from word one. The text is now in 14 point normal (upper/lowercase) print, and is full of bold, italics, and underlining to highlight important points.

Further, the diagrams now have the typical

(card font) that is found in most written card game presentations.

This edition also has a full color and heavier cover than did its predecessor.